Back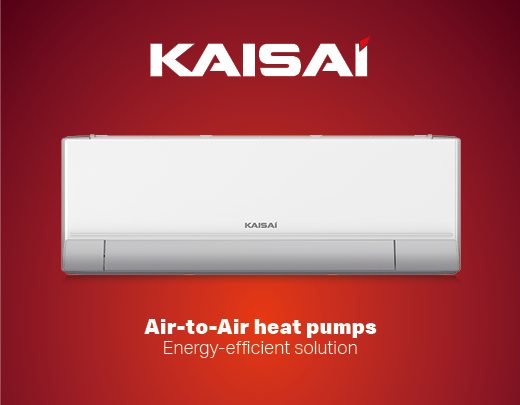 Air-to-air heat pumps - energy-efficient solutions offered by KAISAI
KAISAI's range of products has been expanded to include air-source heat pumps, an eco-friendly solution that allows heating a house or apartment by using energy from the outside air and electricity. As a reversible heat pump device, it not only allows efficient heating, but can also operate in cooling mode, thus providing savings in operation and high comfort of use.
Thanks to advanced technological solutions, the efficiency of air-to-air heat pumps remains high even at very low outdoor temperatures. Available from KAISAI, the line of KAISAI HOT and KAISAI PRO HEAT, dedicated specifically to the function of heating, is adapted for efficient and energy-efficient operation in heating mode at outdoor temperatures as low as -25 ° C.
Air-to-air heat pumps are an ideal replacement for old heating systems, allowing you to obtain an efficient and economical source of heat in your home and apartment. The devices are distinguished by their high energy efficiency class: A++ in cooling mode and A++ in heating mode, which directly translates into lower heating costs. KAISAI heat pumps are powered by 75% energy extracted from the air and only 25% by electricity, making them an ecological and economical solution for both homes and apartments.
Feel free to learn more about KAISAI air-to-air heat pumps:
For more information, see also the article in our Guide: Air-to-air heat pumps – what should I know?