Back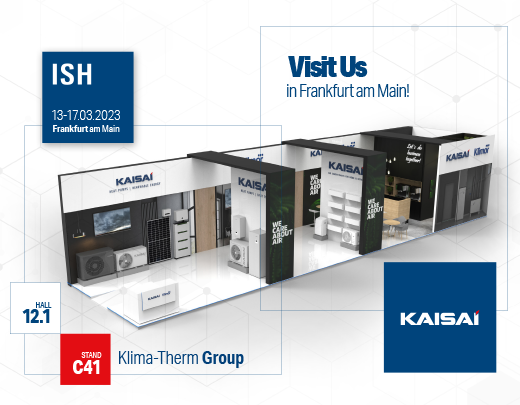 KAISAI at the ISH trade fair in Frankfurt
From 13 to 17 March, Klima-Therm Group will attend the international ISH trade fair in Frankfurt am Main to introduce the latest range of solutions from its own KAISAI and Klimor brands. The Group's presence at one of the most important events of the HVAC industry is related to Klima-Therm's European expansion strategy and the dynamic development of its subsidiary Klima-Therm GmbH in Germany.
This is the second time that Klima-Therm Group will be participating in the ISH trade fair. The previous edition, held in 2019, attracted nearly 2,500 exhibitors and as many as 190,000 visitors. ISH is a leading international exhibition centre dedicated, among others, to responsible energy management in buildings. The ISH trade fair, which provides an excellent opportunity to establish valuable business contacts, is a trendsetter for innovative, sustainable heating solutions and air conditioning systems designed for smart home use.
At the Klima-Therm Group's stand (located in Hall 12.1 and boasting a total area of 100 sq m), visitors to the ISH will have the opportunity to discover the latest KAISAI products from the Renewable Energy Sources (RES) segment, namely: split-type and monoblock air-to-water heat pumps, photovoltaic modules and PV inverters, as well as equipment of the future – energy storage systems. The second group of KAISAI products will comprise air conditioning solutions from the residential (RAC) and commercial (LCAC) categories. Particularly interesting is the new range of wall-mounted air conditioners, i.e. ProHEAT and HOT units dedicated to heating, as well as the ICE Series air conditioners, introduced at the fair for the first time, which are distinguished by the attractive design of the housing available in black and white. The exhibited range of KAISAI air conditioning systems will also include commercial units, such as the KFS stand-alone air conditioner.
The #ISH2023 trade fair will take place on 13–17 March at the Messe Frankfurt exhibition grounds, which offer almost 300,000 sq m of event space. The stand exhibiting the KAISAI heating and air conditioning solutions and KLIMOR ventilation systems, allocated number C41, will be located in the central area of Hall 12.1, primarily dedicated to energy-efficient heat pumps.
WE HOPE YOU CAN JOIN US THERE!