Back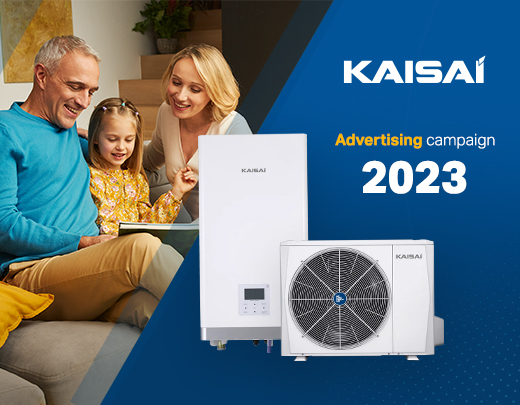 KAISAI launches new media campaign
Another even more intensive advertising year has been inaugurated with new TV billboards and sponsorship indications on the radio. The KAISAI brand will also increase its existing presence on the Internet and social media. Synergistic advertising activities are planned throughout 2023.
Starting in January, viewers of four major TV stations, i.e. Polsat, TVN/TVN24 and TVP, will see new 8-second KAISAI advertising spots promoting heat pumps in the first place. Nationwide TV advertising will be complemented by sponsorship on thematic channels, with programs with the highest viewership.
Launched last summer, KAISAI's media activity on television will be a pillar of the brand's campaign and its image differentiator in 2023, amplifying the advertising effect of radio and the Internet, where the KAISAI brand has been present for several years. On the radio, sponsorship indications will be aired on the airwaves of five major radio stations with leading stations from the RFM group and the Eurozet network. The brand's message will be reinforced by billboard placement at the most popular programs, i.e. sports, among others, as well as contextually - at the weather forecast. In turn, the wide-ranging digital part of KAISAI's campaign will cover the channels and formats used so far, as well as new ones.
- "We are entering another year of brand awareness-building advertising activities, which this time, due to their intensity and planned budget increase, I would describe as a real offensive," says Ewa Pilarska, Marketing and PR Director at Klima-Therm Group, and adds: - "According to Kantar Media's data, Klima-Therm was the largest advertiser among all media-present suppliers of heating and air-conditioning systems in the period from January 2020 to August 2022, and it is worth adding that our industry, in particular, has become more active in response to the surge in interest in heat pumps. I am confident that the extensive, including well thought-out, plan for our campaign this year will translate into a strengthening of KAISAI's position in the consumer market."
KAISAI's new advertising campaign kicked off in early January and will run continuously until the end of 2023. Its main objective is to build brand awareness among potential users of air conditioners and heat pumps and redirect interest in KAISAI products to points of sale.
See KAISAI sponsorship billboards on TV - No.1
See KAISAI sponsorship billboards on TV - No.2
See KAISAI's online advertising spot