Back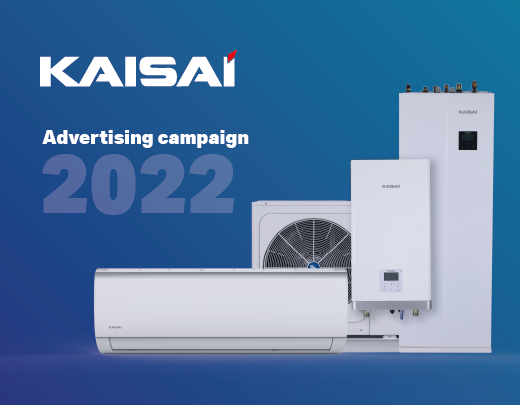 The biggest campaign in the history of the KAISAI brand is launched
Klima-Therm has launched the biggest campaign in its history to promote KAISAI air conditioners and heat pumps. The nationwide campaign, aimed at a mass audience, combines traditional media - radio and outdoor - with a broad presence on the Internet and in social media. Intensive advertising activities have been planned until the end of 2022.
The main objective of the latest KAISAI campaign is to build brand awareness among end customers - potential users of air conditioners and heat pumps - and to redirect interest in the products to points of sale.
In March, the KAISAI commercial can be heard on the radio - ultimately on the airwaves of as many as seven radio stations of the RMF Group, Eurozet and Polskie Radio. The intensity of the radio campaign will be measured by several thousand emissions of sponsorship spots accompanying the most popular programmes, broadcast at peak listening times, which will translate into reaching as many as 13 million viewers from the so-called commercial target group with the brand's message.
In April, the Internet will be included in the media plan, with significant participation of the Wyborcza.pl portal and Polskapresse group websites, comprising several dozens of information and announcement services - both national and local. The KAISAI brand will also be a partner of "Onet Rano" - a live broadcast of Onet.pl. KAISAI sponsorship billboards will appear in several dozen episodes of the videocast, generating a total of over 200 million views. KAISAI brand activity on the Internet will also include a Google AdWords sponsored links campaign in the form of sets of graphic and test ads, and remarketing. All online activities will be complemented by communication in social media such as Facebook, LinkedIn and YouTube.
The third pillar of the biggest campaign in the history of the KAISAI brand will be the outdoors, which Klima-Therm will use in its marketing communication for the first time on such a large scale. Advertising of KAISAI air conditioners will be exposed in June and July on dozens of 12x4m boards. For the campaign, KAISAI's prestigious advertising panels have been selected on the main thoroughfares connecting Poland's biggest cities, including those located on key routes in the context of increased weekend and holiday traffic. According to estimates, KAISAI's outdoor advertising will generate over 20 million potential contacts.
- "The campaign has a typical consumer character. It is aimed at building awareness and image of the KAISAI brand in close connection with the product category," says Ewa Pilarska, Marketing and PR Director at Klima-Therm Group, and adds: - This is the biggest advertising project of this kind that we have carried out so far. Its core is radio - a medium in which we have been present regularly since May 2020, as the largest advertiser in the HVACR industry. We have also been running an online and social media campaign for several years. This time we decided to strengthen communication by intensifying advertising spending and adding new channels and formats. The biggest novelty of this year's activities is outdoor, which is supposed to strengthen the visual message of the brand and increase its memorability. I am confident that a campaign planned in this way will not only be noticeable, but most importantly will translate into increased interest in our equipment and support sales."
The campaign of KAISAI air conditioners and heat pumps - an own brand in Klima-Therm's portfolio - started on March 14 with the emission of the first sponsored radio spots on Radio ZET and Antyradio, and will be carried out continuously for more than nine months, until the end of 2022.