Back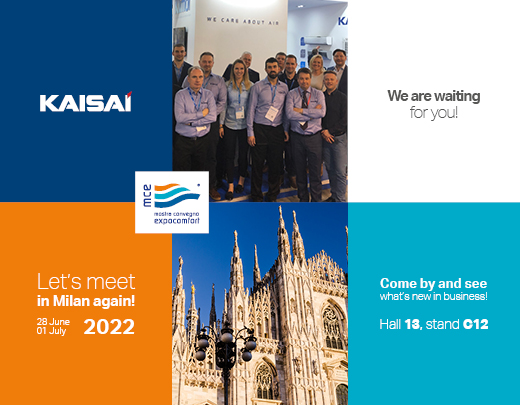 KAISAI AT MOSTRA CONVEGNO 2022 IN MEDIOLAN
The 42nd edition of the international MCE trade fair, Mostra Convegno Expocomfort, will take place from 28 June to 01 July this year. After a 4-year break caused by the recent pandemic and restrictions, exhibitors and visitors will once again be able to meet in the modern Milan Exhibition Centre RHO, at the largest and most prestigious world trade fair for water, heating, sanitary installations and ventilation and air conditioning systems. During this Fair Klima-Therm Group will present for the second time the latest range of air conditioning and ventilation solutions based on KAISAI brand portfolio.
Mostra Convegno Expocomfort (MCE) is one of the largest and most important events of the HVACR industry. This trade fair is invariably very popular with industry professionals from all over the world. The exhibition is divided into five main exhibitions dedicated to air conditioning and ventilation, plumbing, heating, automation and renewable energy. During the four-day event in Milan, at 104.5 sq m stand of Klima-Therm Group, trade fair visitors will have an opportunity to familiarize themselves with the latest range of air conditioning and ventilation solutions offered by KAISAI.
The KAISAI brand exhibition will include the flagship air conditioning units of the RAC and LCAC segments, led by the new models of wall air conditioning units KAISAI HOT, KAISAI ONE+ and KAISAI #290. Among the presented equipment there will also be modern solutions in the field of RES, including R32 heat pumps of the Arctic series in split and monoblock versions, as well as new heat pumps based on R290 coolant, and new models of photovoltaic modules and inverters.
Klima-Therm Group will present itself for the second time at the Mostra Convegno Expocomfort (MCE 2022) trade fair. The experience gained during the 2018 edition, but above all, the huge interest in our products, have strengthened our conviction that our presence at such a prestigious exhibition will contribute both to strengthening the company's recognition and increasing the dynamics of export sales -says Ewa Pilarska, Marketing and PR Director at Klima-Therm Group.
The 42nd edition of MCE 2022 will be held from June 28th to July 1st in the Fiera Milano trade fair centre. The stand of KAISAI air conditioning and ventilation solutions will be located in Hall 13 and marked with the number C12 - WE INVITE YOU!